Import fonts to your library
Importing fonts into the font library or fontlist in RightFont is a straightforward process. Here's how you can do it.
Open RightFont on your Mac.
In the sidebar, select the desired font library or fontlist where you want to import the fonts.
To import fonts, you have two options:

Drag and drop supported font files directly to the right side of the RightFont interface. You can select multiple font files at once and drop them onto the designated area.
Alternatively, you can right-click on the font library or fontlist in the sidebar and choose "Import Fonts" from the context menu. In the file browser window, navigate to the location of your font files, select the fonts you want to import, and click "Import" to initiate the import.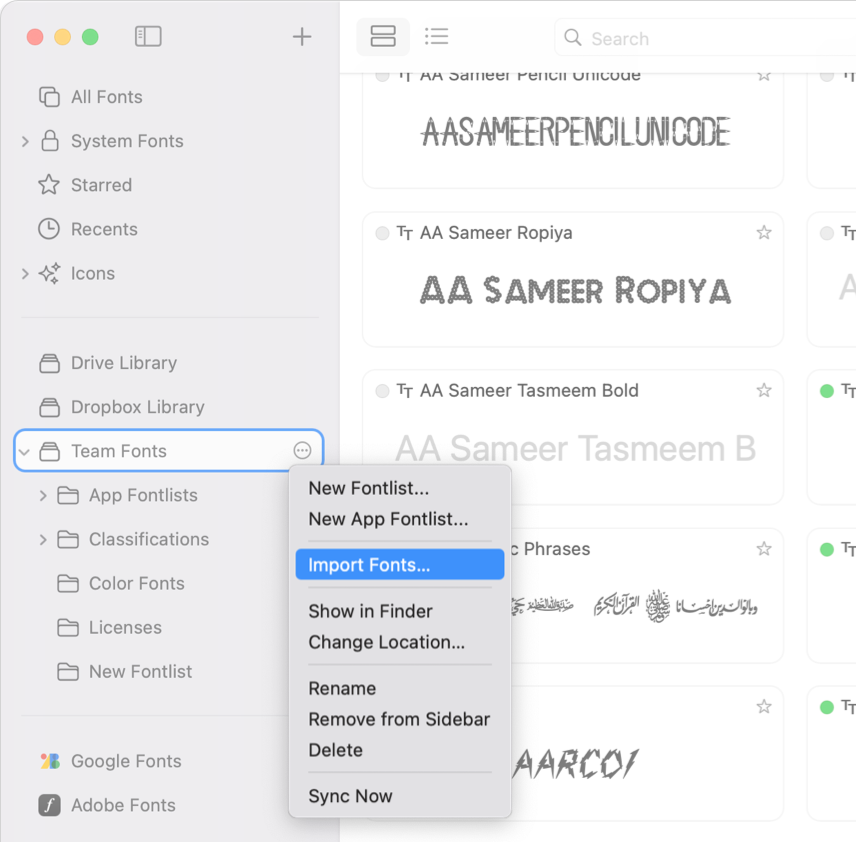 If you are importing a large number of fonts, you may see an importing progress indicator. This is especially useful when importing a substantial font collection.

RightFont will then process the font files and add them to your font library or fontlist. Once the import is complete, the newly imported fonts will be available for use.
Supported font formats to import
RightFont supports a variety of font formats that you can import into your font library. The supported font formats include:
OpenType (.otf)
TrueType (.ttf)
TrueType Collection (.ttc)
Mac font (.dfont)
Type 1 (PostScript)
Web Open Font Format (.woff)