Activate and manage RightFont license
We offer a public 15-day free trial without the need for any registration. During this trial period, you can explore all the features and functionalities. Once the trial ends, a license purchase is required to continue using RightFont.
Important: the RightFont license is device-based, meaning you will need to purchase a license for each of your devices.
After completing the payment, you'll automatically receive an e-mail containing your serial number. We highly recommend storing this serial number in a secure place for future reference. In the event that you misplace your serial number, you can easily recover it by visiting our online license manager.
---
Activating RightFont license
RightFont licenses are delivered as a short license key of the format:
XXXX-XXXX-XXXX-XXXX-XXXX.
To activate your RightFont license, click the License from the RightFont menu. Type your serial number into the text field, then click Acitvate.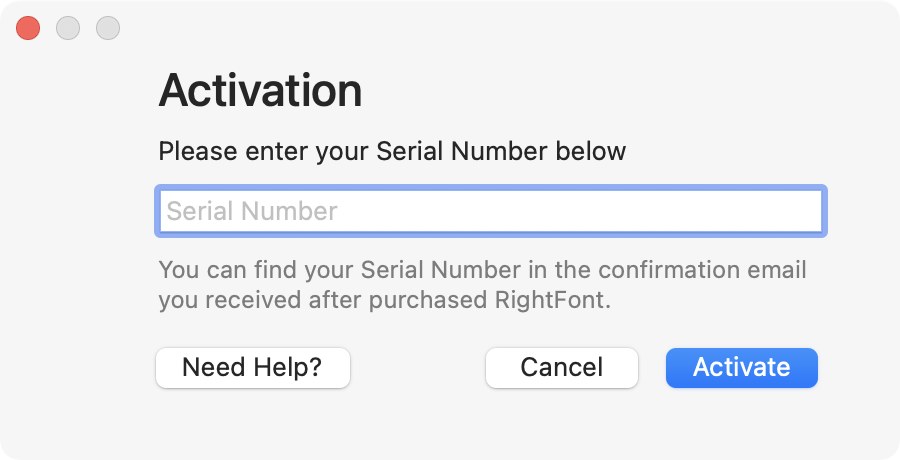 ---
Deactivating RightFont License
If you want to move your RightFont license to another Mac, you need to deactivate it on the old Mac first:
Open RightFont on the old Mac, select License from the RightFont menu.
In the license window, click the Deactivate button.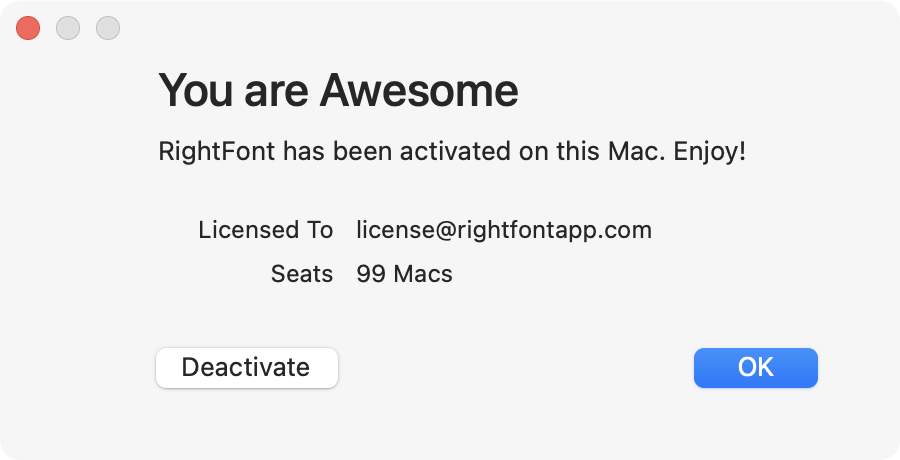 You can now activate RightFont on the new Mac.
---
If you no longer have access to the device you want to deactivate
If you no longer have access to the old Mac and need to deactivate RightFont, you can utilize our convenient online license manager. Here's how:
Visit our online license manager.
Enter the email address used for your purchase and click the "Send me Link" button.
Check your email for the license management link.
Click on the provided link to access the license management page.
Locate the device you wish to deactivate and click the

Remove

button.
By following these steps, you can successfully deactivate RightFont on the previous device and proceed to activate it on your new Mac.
---
Mac App Store
Please note that the version of RightFont available on the Mac App Store is intended for evaluation purposes only. While you can explore the basic functionality of RightFont through the App Store version, to fully experience the complete set of features, we recommend downloading the fully functional version from our official website.
To continue using RightFont with all its capabilities, kindly visit our website and download the full version.
See also
Download 15-day free trial of RightFont
Access our online License Manager